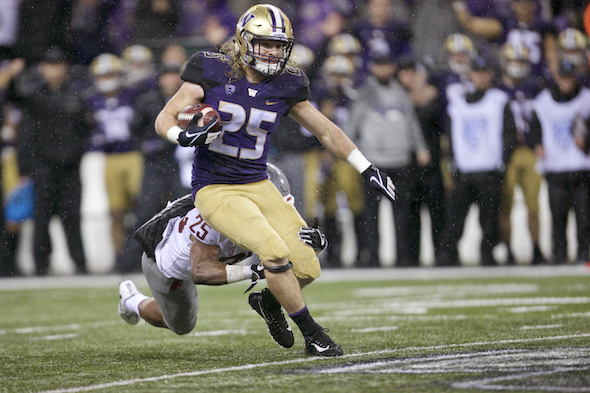 From a standpoint of player profile and psychology, if ever there was a sublime collegiate fit for a specific pro football team, Ben Burr-Kirven and the Seattle Seahawks would seal like the back door of a Brinks armored truck.
Burr-Kirven was part-way inside the team already, before he was called in the fifth round of the NFL draft Saturday.
The University of Washington's All-America linebacker has been training at a Bellevue facility with Bobby Wagner and some teammates. It was hardly a surprise, then, that the Seahawks All-Pro linebacker managed to get on the phone after Schneider was done.
"He was asking how I enjoyed getting my ass kicked by him in their workouts so much," Burr-Kirven told reporters after his selection, "that I wanted to come and do it for them full-time. He was having a little fun with me.
"I'm really excited. He's the model for an inside linebacker in the NFL. It's pretty incredible to be able to learn from a guy like that."
Burr-Kirven is stereotypical Seahawk: Alpha-male, high-motor guy with a perceived physical liability (in this case, too small) that creates a compensatory rage, ratcheting even higher the compulsion to excel.
He also checks the boxes for two other critical Seahawks desires: Speed and intelligence. Besides being the Pac-12 defensive player of the year after leading the nation in tackles — the most since perennial Carolina All-Pro Luke Kuechley of Boston College in 2011 — he also won the conference's scholar athlete of the year award.
"The guy is so productive," Schneider said, "it's ridiculous."
Just a commute across the water. ⛵️

We're so glad @benbk25 is staying in Seattle! pic.twitter.com/D5QgYWRUuM

— Seattle Seahawks (@Seahawks) April 27, 2019
So it really doesn't matter to coach Pete Carroll that Burr-Kirven is six feet and 222 pounds. Just as it didn't matter to Carroll when Lofa Tatupu played middle linebacker for him at USC at six feet and 235 pounds.
"He reminded me so much of Lofa," Carroll said. "He had this extraordinary knack for finding the football in unique ways, and the way he fit in the running game. He was amazing. This is the way that Ben plays."
As a rookie Seahawk in 2005 (second-round draftee), Tatupu was the leading tackler on a team that took Seattle, under coach Mike Holmgren, to its first Super Bowl. The three-time Pro Bowl selection played six seasons in Seattle, including Carroll's first year, before injury curtailed his career.
Even though Tatupu was a bit bigger than Burr-Kirven, the comparison of instincts was compelling.
"The special knack was something that we were really excited about," Carroll said. "We know that he's going to be a factor on special teams. He's going to be running down those kicks and making hits.
"He's recognized as a really big-time player."
Carroll mentioned special teams several times Saturday after the seven rounds produced 11 players, none of whom can be be said in April to be a leading candidate to start in the fall. By definition, that means most, if not all, will get their first NFL action on special teams.
The Seahawks' biggest need entering the draft was for an edge rusher to replace the traded Frank Clark. The No. 1 choice, DE K.J. Collier, is, at 283 pounds, not the ideal profile for the task, although Carroll likened Collier's versatility to former Seahawks star Michael Bennett.
Seahawks special teams, with the exception of rookie punter Michael Dickson, also were needy last season — the worst of the roster's three units.
"We know a lot of these guys are going to be special-teams players,"  he said. "They've already done it. They've proven it. The majority we've seen them play on (special) teams.
"It's a different feel. You have to have an instinctive feel for knowing how to block in space and knowing how to cover."
The Seahawks' biggest commitment in free agency thus far has been to PK Jason Myers (four years, $15.4 million, $7 million guaranteed). But there's still time to pursue a veteran pass rusher, particularly after May 7, after which free agent signings won't cost teams any compensatory draft picks in 2020. The Seahawks right now have four.
The free agent rusher that rumors have linked to the Seahawks is oft-injured DE Nick Perry, who played for Carroll in 2009 at USC, then was taken in the first round by the Packers, where he played seven seasons before his release in March.
Of the pass rush needs, Schneider said, "We're not done yet."
In anticipation of the probable injury-driven retirement of Doug Baldwin, the Seahawks did address another position of need by drafting three wide receivers — D.K. Metcalf of Ole Miss (second round), Gary Jennings of West Virginia (fourth) and John Ursua of Hawaii (seventh), the latter by trade in the draft's final minutes, gaining the pick by dealing a sixth-rounder in 2020 to Jacksonville.
Asked for an overall talent assessment, to no one's surprise, Carroll gave a lengthy response filled with sunshine, lollipops and rainbows.
"I think we're in pretty good shape right now," he said. "I feel like we have competitive players across the board.  This was not a draft where we went in and had big holes. The linebackers are going to be competitive.  The receivers are really competitive.  We are already competitive at the running back spot. The O-line seems really solid. The tight end position is solid. We're excited about the quarterback position, with a little bit of help from (backup) Paxton Lynch. We nailed the kicking game, with Jason and Michael.
"Then, we just took 11 guys. I would have never thought that would have happened. This feels like one of those rosters we had maybe about five years ago, when I really felt like there are guys on our team that other people want. That's a good spot to be in."
And he has Burr-Kirven.
"I know that I'm a guy that is, hopefully, going to be a core special-teamer," he said. "Go down and do the dirty work, cover kicks, block, all that kind of stuff. That's where it starts and hopefully earn the trust, then get a chance to show what I can do on defense, too."
Day one of the Seahawks' Seahawk.